Easter is almost here, and COVID-19 is already here:
http://cov-ehealth.org/2020/04/18/covid-19-in-the-united-kingdom/
Traditionally at this time of year the highways and byways of Devon and Cornwall fill up with pristine white caravans and camper vans. What will happen this year? According to Cornwall Live:
One of the leading officers at Devon and Cornwall Police has issued a strong message to people not to consider travelling to the region over the Easter weekend.

Chief Superintendent Ian Drummond-Smith, the police commander for Cornwall, said people found holidaying in the county face being fined and that officers will be out on two of the main routes into the region to prevent tourists arriving.

It comes after a caravan crashed on the M5 on Wednesday afternoon (April 8) near the Somerset-Devon border which led to criticism to the driver for flouting coronavirus lockdown travel advice from the Government, which says should be for "essential" trips only. Three people were arrested at the scene.

Mr Drummond-Smith said: "Our officers will be patrolling this weekend, firstly on the M5 and A30 in an attempt to prevent visitors from entering the force area, and then locally to enforce the restrictions.
According to Mr Drummond-Smith's Twitter feed:
Travelling into the Westcountry this weekend for a holiday is a serious breach of the restrictions & you're likely to be fined. https://t.co/5IPCXnxR0j

— Ian Drummond-Smith (@TChSupt_IanDS) April 8, 2020
This extract from the Kings College COVID Symptom Tracker map provides some baseline data on the presence of cases of the novel coronavirus in this part of the world on April 1st: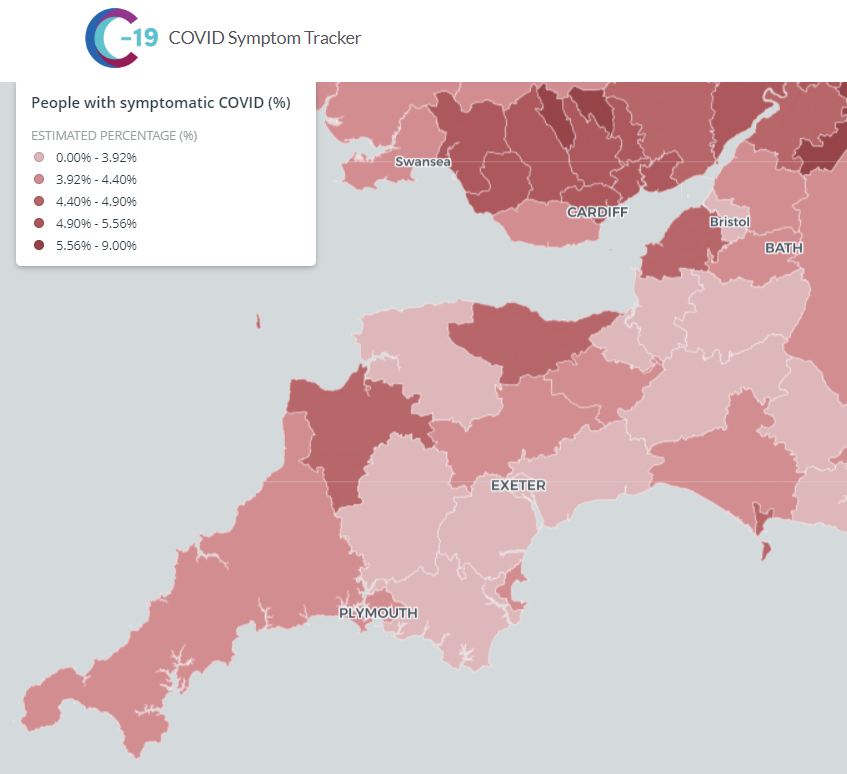 This is no joke! Anecdotal evidence from the North Coast suggests that the percentage of people self identifying with coronavirus symptoms in the area is likely to increase over the next few weeks:
They're here already, each day more and more arrive, driving over the moor at night. Is there anything you can do @DevonCC @dave_sgt ? https://t.co/LBMqhZ00GZ

— Ester Spears (@Estpix) April 8, 2020
Here is an explanatory music video:
Watch this space!